Are you having trouble accessing your Windows Server 2012 machine using remote desktop, even after adding the user to the Remote Desktop Users group? Remote Desktop appears to accept the login credentials but then you receive the following error message:
"To sign in remotely, you need the right to sign in through Remote Desktop Services. By default members of the Administrators group have this right. If the group you're in does not have the right, or if the right has been removed from the Administrators group, you need to be granted the right manually."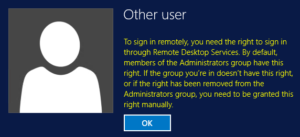 With Server 2012 it seems that you now also need to grant the user remote access privileges though the Local Security Policy as well as the Remote Desktop Users group.
To grant this access, search for and open the Local Security Policy program.
Expand Local Policies and select User Rights Assignment. A list of polices will appear on the right hand side. Right click on the policy named "Allow log on through Remote Desktop Services" and select Properties.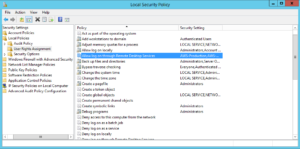 You will now have the option to add users or groups to the policy.